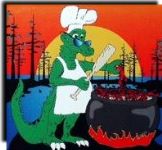 Boo Boo's Seasoning Mixes
Boo Boo's Cajun Shaker


Boo Boo's Cajun Shaker is an all purpose Cajun seasoning. Shake, shake, shake it on for real Cajun flavor!

Boo Boo's Cajun Chili Mix


A fiery blend of dried seasonings and vegetables that, when added to ground meat, makes one of the tastiest and spiciest dishes on the planet. Cajun chili is world renowned for that "Slow Burn" and this seasoning is one of the finest.

Boo Boo's Fix Fry


A blend of dry seasonings and ground corn flour that gives that perfect crunch to fried fish, shrimp, or oysters.

Boo Boo's Seafood Boil


A powerful blend of spices with a pinch of lemon that adds that Cajun punch to any boiled seafood. Just add this to your boiling water and you're guaranteed that "authentic" Cajun flavor.